PARADISE HUT KAVARATTI ISLAND
The Headquarters of the Administration, Kavaratti is located 404 kms from Kochi, 10°33'N North Latitude and 72° 28' East Longitude. Kavaratti is blessed with an un-matching ecosystem and marine wealth including stunning coral reefs, blue lagoon, dive locations, pristine beaches and watersports facilities. On the western side of the island, there is a lagoon of 4,500 m long and 1,200 m wide consists of reef flat, which get exposed during low tide. Maximum depth at high water in the lagoon is 3.5 m.
Marine life exhibits can be seen at the Marine Aquarium which has excellent collection of specimens. The Suheli Island excursion is another attraction for adventure enthusiasts. The Ajara and Jamnath mosques (of the 52 are spread out over the island) have the best woodcarving and the former has an ornately carved ceiling believed to be carved from one piece of driftwood.
PARADISE HUT KAVARATTI ISLAND 2012 - 2013
03 Nights/04 Days - By Air Kavaratti Island Package - Details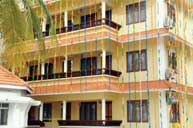 The resort at Paradise Hut offers peace and solitude at the isolated South tip of the island. The rooms offer fantastic views of the encircling lagoons and the coconut palm groves in the beaches. The place is ideal for a real holiday that brings you away from the maddening crowd, hustle and bustle of city life. A full-fledged water sports institute is functional at Kavaratti Island
Paradise Hut Resort offers a package to visit Kavaratti - the Administrative Capital of Lakshadweep. Kavaratti Resort Package connecting Kochi - Agatti - Kavaratti by flight and speedboat. The accommodation on the island is in the newly constructed tourist block for families and honeymooners in Air Conditioned rooms, which gifts a mind-blowing view of the beach. There are 24 beds now available for tourists in order to escape into the magic world of thrill, fun and excitement. View Photos
Package Details
Type of Resort Hut: Std A/C
No of Days: 03 Nights/04 Days
Number of Persons: 2
Total: Rs. 30,500/ APAI
The above rate/s (Kavaratti Island Beach Resort) is inclusive of:
Transfers to and from the Agatti - by speed boat.
Welcome Drink on arrival
All meals (3 Times Buffet + Morning & Evening Tea) at the Restaurant
Usage of Health Club/Indoor Games/watersports fecilities etc whichever is applicable
Water Sports & Sight Seeing*
Kayak/Canoes will be complimentary at resort (Full days)
Sight Seeing/Guided Tour/Cultural Programme etc whichever is applicable
Heritage Fee
Documentation/Service/Entry Permits
All Taxes including Govt. Tax
Rate For 2 Persons (Standard A/C / Twin Share Basis)



Water sports & Sight Seeing

Water sports includes kayaking snorkeling, boating and glass bottom boat ride in all the island. Sight Seeing & Cultural Activities also arranged free of cost.
Charge Excludes:-
Flight charge from Kochi/Agatti/Kochi
Passenger Handling/vehicle charges (If any)
In case of non availability of ferry, Helicopter may be charted. (The difference will be @Rs. 2,300/- per head is payable as extra)!.
Special Notes:-
1) Air and sea package to Kavaratti Island is being programmed according to the flight schedule from mainland, Kochi to Agatti. (Agatti to Kavaratti 45nml/2 to 3 hr) Regular boat connection may get cancelled from Agatti to Inner Islands due to certain cases
(a) weather condition or
(b) a technical snag. In most cases, we do arrange alternative ferry /or/ Helicopter /or/ accommodation in Agatti instead.
All transfers to and fro from the Agatti Airport is calculated by H.S.C regular ferry/Govt Service (Rs. 3000/- Both way Per person) The remaining for Helicopter has to be paid at the island.
Other Details
Entry Permit
&place of birth of person/s and a contact number, preferably a mobile number to us as soon as you confirm the bookings.
Payment
HighSeason: 50% payment can be sent in advance & the rest can be paid 30 days before trip.
Peak Season: (01st December to 15th January - Schedule) 100% payment can be sent in advance to get confirmed reservation.

Payment can be Bank Transfer to ICICI BANK / CREDIT CARD
Online Payment By VISA & MASTERCARD
Please note: Online credit card transactions will attract a card fee 2.5% of the amount.
Please find payment link: http://www.payments.mintvalley.com/pay/dopayment.aspx
(KINDLY INTIMATE US THE TRANSACTION DETAILS)
If you have any queries, please feel free to Contact us

Related News: Paradise Hut, Kavaratti Island, A Promising Boon To Lakshadweep Tourism